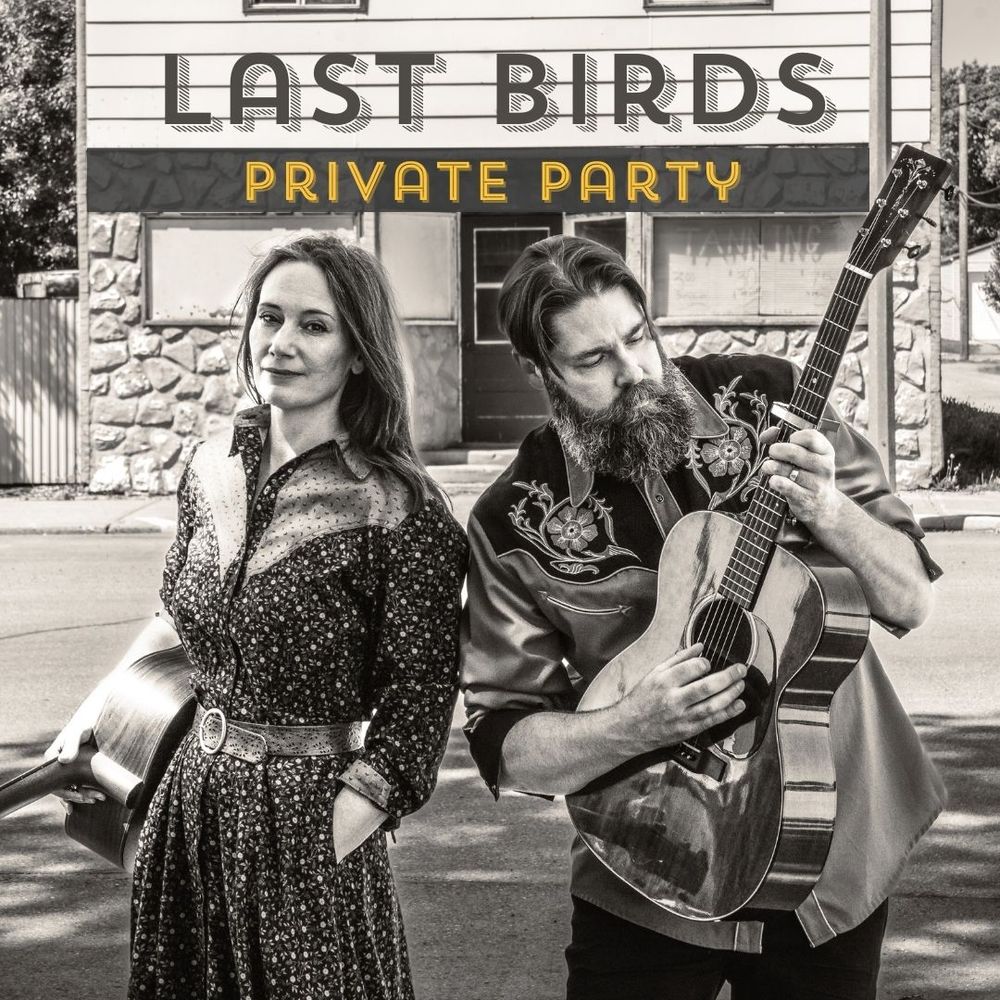 Last Birds Private Party
House concerts are a growing trend and a great way to experience live music. With a Last Birds private event you can enjoy a professional performance in the comfort of your own space in the company of your friends and family. 
Last Birds is currently taking bookings in Western Canada. Please send us an email with some dates you have in mind.   We will do our best to make it work with our current touring schedule. 
To host a concert you will need: 
A space large enough to accommodate at least 25 guests, yourself and Last Birds (Mike and Lindsay with their guitars) 
At least 25 friends, family, & neighbours who enjoy live music and appreciate a good story. 
Book a concert 
Send an email to info@lastbirds.com with the following information: 
Your Name 
Phone# 
Address of venue 
Number of guests (minimum 25) 
Date(s) you would like to host 
Describe your space for the concert (living room?, patio?) 
Why are you interested in hosting? (special event, birthday, just for fun?) 
Details About Hosting a House Concert 
Group Size and the Space 
As the host you will invite the guests to your home for the concert.  To make a House Concert viable for us, there must be at least 25 people attending the show.  We recommend capping the crowd at about 40 (depending on the size of your home).   Outdoor spaces can accommodate a few more but the intimacy of the show can be lost with a large crowd. 
Please have a 4 x 6' space cleared and ready for us to set up in.  If a PA is required, we will need a few additional square feet for the speakers and hardware.  An electrical outlet should be close by so cords do not become tripping hazards for your guests.  If the concert is outside, a shaded area out of the wind makes the experience better for everyone.  An alternate, sheltered space in case of bad weather should be considered. 
Seating 
Guests are most comfortable listening when they are sitting down.  Please have enough seats for everyone. Couches, kitchen chairs and lawn chairs work.  Perhaps you have a BYOC (Bring Your Own Chair) policy for the show. 
Sound Equipment 
If your house concert will be indoors for a group of 30 or less, then you do not need a sound system. Last Birds will provide a small PA/mic if some amplification is required.   We will need one regular electrical outlet for this.  If you're interested in an outdoor deck concert in the summer, there is a small additional cost for the outdoor PA system. The extra $50 for the rental is paid by the host. 
Concert Time 
We can do afternoon shows on weekends and evening shows on weekdays and weekends.  Afternoon shows start anywhere between 1:00 and 3:00.  Typical start time for evening shows is 7:30pm. Invite guests to arrive at least 30 minutes before the concert starts.  Last Birds will play two 40 minute sets with a break between.  We can be flexible with start times so include any special requests in your email inquiry. 
Refreshments 
As the host, you may supply the refreshments or have guests bring their own. People (including us) mingle before the first set, at the break, and after the show. The choice to have alcohol at your concert is up to you. 
About Last Birds' Style of Performance 
Our musical genre is Folk/Singer-songwriter/Americana.  Think Simon & Garfunkel - not the Rolling Stones. 
Our House Concerts are intimate 'listening room' performances where the audience has a chance to hear the lyrics of our songs and the stories in between. We sing a couple of covers here and there but for the most part, we do our own original stuff.  We both play acoustic guitar and sing a lot of harmonies.  Our music has been described as "beautiful", "mesmerizing" and "haunting".   Our songs are serious but we make a point of including some humorous banter in between for some comic relief.   We strive to create a memorable experience. 
Last Birds is not a house party band.  We would suggest hiring a DJ or a Top 40 cover band if you are looking to dance or get wild late into the night (but don't forget to invite us as guests so we can have a good time! haha) 
House Concerts are like going to the theatre.  People don't wander around much or talk during the concert.   It is a good idea to let your guests know what kind of music we play before hand.  If your toe gets a tappin' or you feel like waltzing at the back of the room with a special someone, that's good too. 
Last Birds will bring CDs and other merchandise to sell directly to your guests if they would like them. No high pressure sales, we promise. 
Cost 
At most house concerts, guests pay their admission to the show like they would at any other venue. Admission per person is usually $25.  You will make a commitment to having a minimum number of guests at the time of booking. (ie: "I want to host a house concert, and I'll have 30 guests"). When you invite people, you need to have them commit that they're indeed attending and when they show up they pay their admission. Usually hosts have a list and a little container at the door to collect admission. Sometimes it is self-serve.  The total fee (# of guests x $25)  is paid to Last Birds at the end of the performance. 
Sometimes a guest doesn't show.  It happens but keep in mind that 25 people is the minimum # of people we need to make this work. If there are a lot of no-shows bringing the total attendance to less than 25 , we ask that the host makes up the difference. Most house concert musicians and hosts agree this is fair.